The Power of Social Media for your Business
Originally Published on : August, 14 – 2018
Updated on: February 03 – 2022
Despite that many small to medium sized business use it on a regular basis, not many of them understand the power of Social Media. Whether we view Social Media in a negative or positive light, no one can deny that it is an important aspect of business today, some even relying on it to make ends meet.
Statistics show that there is an increase in the amount of people who are active on Social Media and it shows no signs of slowing. Social Media is here to stay and no one denies that it is beneficial for business, however many still don't understand how it works. Unfortunately, Social Media is understood to be all about likes, shares, fans and followers, it is usually seen as a popularity contest. However, smart business owners understand that it's more than that.
In this article I will present to you several points that demonstrate the power of Social Media for your business. But before diving into them, let's see first some STATISTICS and STRATEGIES for you to understand it better. I 've also wrote another comprehensive article, that is complementary to this one, about 15 reasons why Social Media Marketing is important for your business. You can find it here…
STATISTICS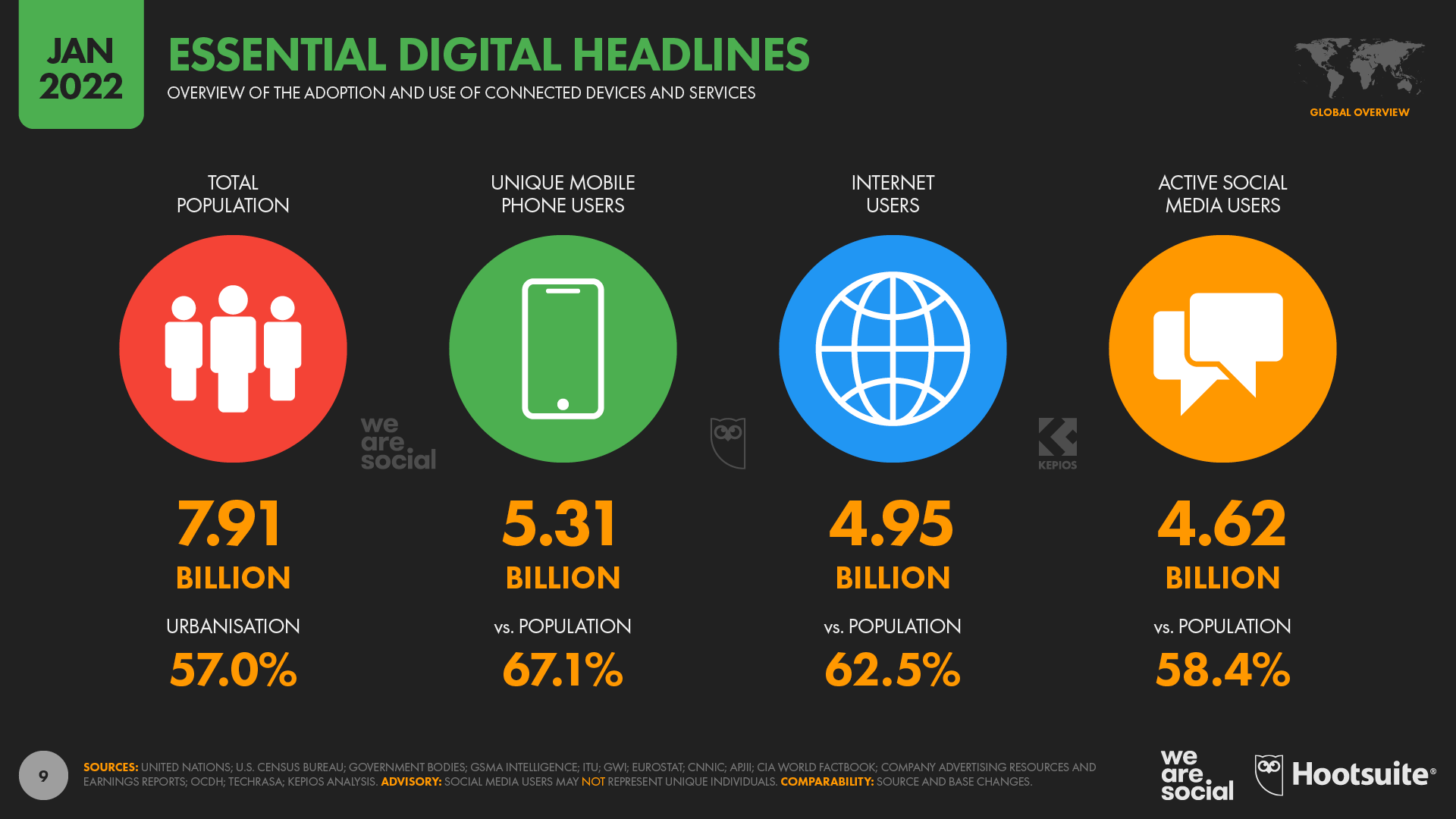 Image credit: Hootsuite
As of January 2022, there are 4.95 billion Internet users around the globe — that's 63% of the world's total population. Active Social Media users make up 4.62 billion, or 58% of the population. These people are using social to engage with brands. On Instagram alone 90 percent of people follow at least one business.
If you're not taking advantage of social, you're missing out on a fast, inexpensive, and effective way to reach almost half the world's population.
These numbers alone prove that Social Media is here to stay, if not to flourish further.
With such penetration, its significance to society cannot be ignored — especially in the marketing world. The reach and influence of Social Media is a treasure in the business and trade industries, where the need to engage and persuade the market is of top priority. With the slow death of print and radio, Social Media has taken over as one of the leading channels for marketing and advertising.
Here are some more Social Media statistics that prove beyond doubt the importance of Social Media in business. Your business needs to leverage sites like Facebook, Twitter and LinkedIn to keep up with the competition.
• The number of Social Media-using adults has gone from 7% in 2005 to 69% just ten years later.
• Social Media use on mobile devices is seeing a 30% growth every year.
• Over 5 million business today use Facebook advertising for promoting their products and services.
STRATEGIES
Here are some tips on harnessing the power of Social Media for your small business, brand or even your big company.
Before you start implementing a Social Media strategy, it is important that you have a foundation for your strategy. Ask yourself:
• Who are my target audience?
• Where is my target audience?
• What Social Media platform can my target audience be found?
• What do I wish to achieve with Social Media regarding my brand or business?
• Who should set up and maintain my accounts?
• How often should I post?
• What content would my target audience be interested in?
• How will I measure my Social Media strategy?
The more questions you ask, the more detailed your Social Media marketing strategy will become.
Once you have determined your targets you have the makings of a basic Social Media strategy. You will also have a clearer understanding of the direction you need to take and what Social Media platforms will be suited for your brand or business.
To understand the actual potential of any Social Media tool you should understand four important steps.
– Strategize
– Optimize
– Socialize
– Monetize
Let's start the journey
Well, let's dive into some of the reasons that demonstrate the power of Social Media to help your business.
1. REACH
Gone are the days when you needed the radio or the TV to reach out to millions of persons at a time. With Social Media platforms like Facebook, YouTube, Twitter etc., you can now reach out to a much larger audience than the TV or the radio can facilitate, and even more, you can reach out to specific types of audience with your message or advertisement. Imagine being able to target expectant mothers with products meant for new babies – or imagine being able to target only high school students with your offers – Yes, that is the type of targeting that Social Media can offer!
Community Building
The first step to engage real-time leads for a business is to attract community and not directly sell your business to the customers. Deliver great content and information and focus on building a community before monetary gains. With a little bit of effort and creativity, you stand a great chance of engaging existing customers and raising your bottom line in terms of prospects and exposure.
Communities are a natural by-product of human interactions. Social Media has provided a new platform for these interactions to take place at an accelerated rate. The main goal of Social Media centers on cultivating an environment where individuals with similar interests actively engage, forward and share content with one another. For a brand, developing a community where each post garners a substantial level of interaction raises the overall awareness of your campaigns, helps to develop your goals and, ultimately, increases the number of followers you have.
3. Engagement
Social Media is all about community building and your target audience getting interested in your brand and its value. Social Proofing is super necessary for engagement i.e. a majority of interested audience committed over digital platforms to your business. The mainstream perception lies on the fact that where there are more people, the business works better there. Just imagine a community that is raving to devour your content, your posts, videos, graphics, infografies, etc, that cannot wait to see your next video or simply is wishing that your next product or training comes out to purchase it. That's perfectly possible through engagement.
4. Go where the PEOPLE are
Social Media allows you to "Go where the people (or your customers) are."
The three top social networks — Facebook, YouTube and Instagram — have over 5 billion monthly active users combined (Source: DreamGrow).* That's almost half of the entire earth's population! Of course, your audience isn't that large. But chances are that most of your audience is active on one or more of the major social networks.
What's the best way to get your business on people's radars? Go where the people are and develop a presence —and that place is Social Media!
5. Attract and Direct Leads to your Website
Linking to your website, when appropriate, can entice people to check it out. If there's a particular offer you're promoting, it might even be wise to send leads straight to landing pages. With this I mean one or more specific pages that are related to that offer, for example, a free ebook promotion. These type of pages are created, I mean, designed, in such a way, that they reduce to the minimum, the opportunities for distraction or hesitation, thus making it easy for them to makes the user take action whether it be to subscribe to a newsletter in order to get an ebook, see a video or simply to purchase a product or service.
The great thing about Social Media is that you aren't limited to simply posting a link. You can include that link within a captivating, intriguing, or appealing post, and if the page you're linking to has an image, it will most likely render in the post. Social Media is important for creating an appealing invitation for users to visit your website and engage with your account.
6. Effectiveness
Facebook reported in April 2017 that they had 5 million advertisers on their platform. This is a considerable increase from the 3 million companies that advertised during the same time in 2016. Of all the Facebook advertising statistics, this one really shows the power of advertising on this platform. This statistic is a testament to the fact that more businesses are realizing that Facebook advertising is not only effective but vital in helping them remain competitive in the busy online marketplace.
7. Driving Sales
To drive sales for your business and even for personal promotion of an individual; daily content marketing and advertising over Social Media tools have a major role to play. Facebook, Twitter, Instagram and Linked In campaigning influence audience and drive enormous amount of sales. When advertising happens over Social Media then a marketing team should be clear about return of investment (ROI). If your website is well-made and converts well, it is safe to say your sales will increase with Social Media growth.
8. To talk about your offerings, products and services
Of course, your business shouldn't be the subject of all your posts (think about Social Media best practices). You do need to find a balance between promotion and simply sharing helpful content. Yet, you do want to get leads excited about your business.
One way to do this is through video (Instagram video, for example; don't limit yourself only to have your videos on YouTube). However, don't underestimate the power of showing what you offer and how it benefits customers. If you don't do it, no one is going to do it for you. Another way is to share testimonials or success stories from happy customers, which might come in the form of a video. All of the above spark and hold interest.
You can link to your Website from Social Media
No doubt, one of your goals is to get leads to your website. There, they can explore and, hopefully, decide to engage further with your business.
One way to get people onto your website is to direct them there. You might encourage them to visit the link in your bio. Or you could include links to your blog posts or other content right in your posts.
9. CTA – Call to Action
Through some techniques of Internet Marketing, you can make that your leads take encouraging ACTION. What action would you like your leads to take? Do you want them to download a resource, subscribe to your newsletter or make a purchase? Whatever the case, Social Media Marketing (SMM) can be a great help for achieving these results.
10. Build and Maintain Trust in your business
Apart from being able to target specific individuals, Social Media can help clients and customers build and maintain trust in your business. You can create a following or a fan base that will be forever loyal to your brand with unique customer experiences that Social Media offers.
You could interact directly with your customers, addressing their needs, getting their reviews and replying to them instantly. In fact, certain media platforms such as Facebook now allow you to put everything on autopilot through chatbots; that are smart computer programs that can perform your tasks for you. They can interact with customers based on their public profiles and posts, and suggest the best offers or deals to them.
One other great thing that Social Media offers is how it can be integrated with several other platforms. You could add a Facebook, Twitter, Google+, or Pinterest share button on a blog post on your website so that your readers can share your post with their friends or circles thereby increasing the popularity of your brand or business. All of these help you favourably compete with your competitors and assess your own performance. Facebook Insights and Google Analytics are two good tools that allow you to measure your performance while using the platforms provided by the two tech giants.
11. Source of Content
In order to get source ideas, ask your followers what they want, or engage in social listening, to come up with ideas for content you can create yourself. Put simply: Give people what they're asking for. It's a sure way to create content that people will want to read and share. It's like creating a product that solves the specific requirements of the people that want it.
12. Content Promotion
Let's be honest, creating a high quality content, like this one, takes time and dedication. It doesn't deserve to be buried inside a Blog. It must be seen by as much people as possible that be interested on this topic. So we have to promote it.
Promoting your content on social channels is a great way to get your smart, well-researched content in front of new people, proving your expertise and growing your audience. You can do this for free, but if you want to reach many leads in a fast way, you can use paid ads on Facebook. You can literally drive tons of traffic to the site that you want; and if you implement a good marketing or hire a professional Internet marketer, you can convert those leads into customers by using an appropiate sales funnel.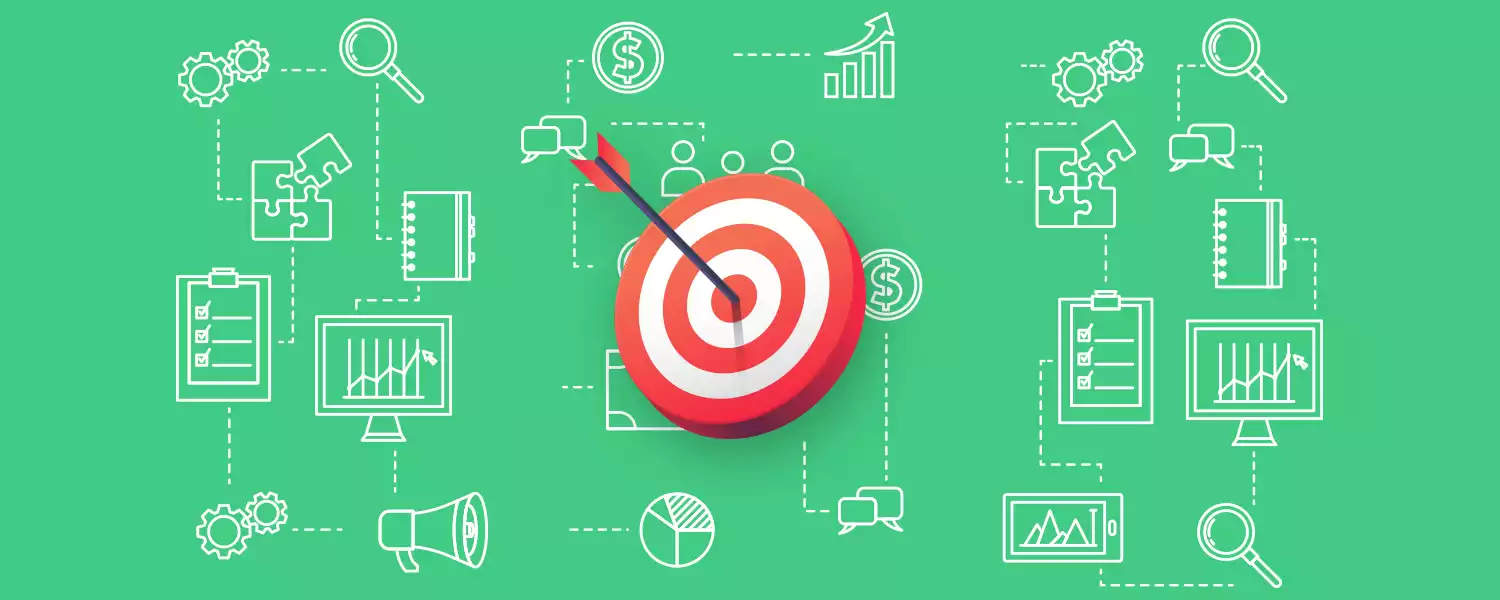 13. For Targeted Advertising
You 've seen billboards on the street. They contain ads and promotions. The thing is that they are located in places that are seen by many people, which most of them are not interested on it, or simply they don't need that product or service showcased in the billboard. And it gets even worse due to the high cost that this type of advertising has. The same thing happens with the ads on the TV, the radio or even magazines.
On the other hand, social ads on the Internet are an inexpensive way to promote your business and distribute content. They also offer powerful targeting options so you can reach the right audience and make the most of your budget.
Savvy marketers have embraced this key benefit of Social Media for business. They spend twice as much on social ads than on newspaper advertising.
With ad targeting options including demographic information, geography, language, and even online behaviors, you can craft specific messages that best speak to different groups of potential customers, and only pay for the exact viewers you want to reach.
Facebook is the big leader giving the example of how well advertising work. They made $40 billions dollars just in 2017 by using targeted advertising to audience.
14. Building Brand Loyalty
The goal is not just to get a customer and call it a day. Ideally, you want satisfied customers that come back to you again and again. Where does social networking come in?
Brand loyalty is defined as the partiality of a consumer towards one business or product over another, and it can truly make or break a company. It drives in-store traffic, visits to your website, word-of-mouth recommendations, and the conversion of leads to customers. This means the difference between profits and losses.
And more often than not, in today's interconnected world, brand loyalty depends on your ability to leverage the power of Social Media to build connections with your prospects and customers.
15. To interact with your Customers
Encourage them to follow you. Interact with as many of them as possible. Address any concerns they might express on Social Media.
Also remember that life is busy and it's easy to miss announcements via email and other means. So use Social Media to announce to and remind your audience of any customer loyalty programs or discounts you have. Answer any request.
Most people prefer having Social Media apps installed and running all the time on their smart-phones, than email apps; so use that on your benefit. If you show that you appreciate them and their business, they will more likely be loyal to you.
16. To show the human side of your brand
Some stories have demonstrated that people usually do not trust a brand until they see a real proof that the brand is keeping its promises.
To connect with customers—and potential customers— you've got to show the human side of your brand. How are you embracing your brand values? Pay attention to the best interests of your customers and employees. Make yourself a hard question: Does your product really work? Answer it with total honesty.
Tell and show your followers how your existing customers are using and benefiting from your products or services.
17. Customer and audience engagement
Social networks give you the opportunity to interact directly with customers and fans, and likewise give them the chance to interact directly with your brand. Unlike traditional media, which offers only one-way communication, Social Media is a two-way street.
If you want customers and followers to be engaged, you have to be engaged yourself. Stay active and respond to comments and questions on your own Social Media posts in a way that's appropriate to your brand.
18. Enhances SEO
Active social accounts connected with your website and online directory listings enhance SEO. Sharing relevant, high-quality content can also boost your business' placement in search results. Increased visibility means you can be found more easily by people who don't yet know about your business but who are interested in what you do.
Remember, people is not looking for you, they are looking for the solutions to their problems. And where do they go? Yes, you guessed it: They go to search engines, and specifically, 92% of the times, they go to Google. And there they ask their questions and Google offers many pages containing those search criteria, that are classified in order of paid advertising (Google Ads) and relevance (SEO), in other words, organic results.
Google presents those results, that sometimes are millions, in small groups of 10 pages. So if you are not found on that "FIRST PAGE", chances are that people don't find you. That's the importance of SEO. Despite that is a huge field, that mostly takes place on your website, Social Media channels and other resources also enhance the ranking.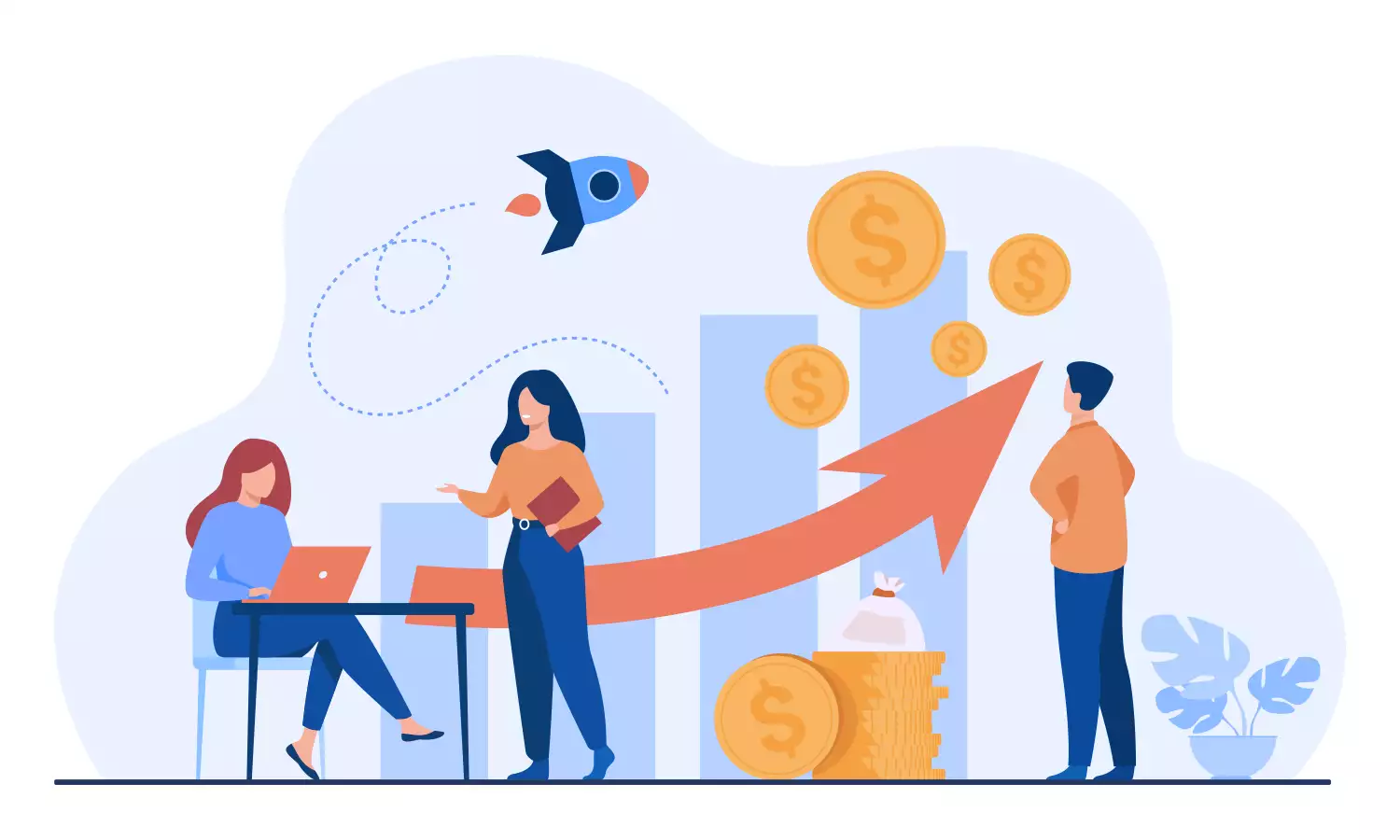 19. Boost Sales
No matter what you sell, Social Media can help you sell it. Your social accounts are a critical part of your sales funnel —the process through which a new contact becomes a customer.
As the number of people using Social Media continues to grow and social sales tools evolve, social networks will become increasingly important for product search and ecommerce. The time is right to align your social marketing and sales goals. For individual sales professionals, social selling is already a critical tool.
20. Establish your brand and yourself as a leader
No matter what industry your business is in, Social Media offers the opportunity to establish your brand as a leader —the go-to source for information on topics related to your niche.
When people go to your website and see it well designed, updated, and see that the most important tendencies and elements to grow today are implemented there, it sends to them a direct message of trust. And this feeling increases when they go to your Blog section and they see that you have many articles on it, providing solutions and high quality resources of information in their industries.
Remember, there is an old saying that says: "Content is king." And this is totally true. Every single piece of content that you write and prepare in your website is gold with time. Why? Because you can write an article today and 3 years later, someone is looking for that information and lands on your site, specifically on that article, and it solves them their problem.
And what is going to happen? Easy: that person is going to follow you and might become your customer. This will make that their trust on your brand grow.
21. Reputation Management
Your customers are already talking about you on Social Media, whether or not you're there to respond. If you and your team are on the ball, you can pick up on important social posts about your brand to highlight the positive and address the negative before it turns into a major issue.
Is someone saying something about your business that's not true? Be sure to share your side of the story in a polite, professional way. Someone singing your praises? Send them plenty of thanks and draw attention to their kind words.
22. Monitor your Competition
Social Media channels allow you to see what your competition is doing, and you have chances to emulate what they are doing well, and also you can avoid or improve what they are doing bad, and most importantly, you know what people are saying about your competitors. This is 2 way sword because they can see you too. But at the end, it's a very good thing.
23. Increase Inbound Traffic
There is no doubt that more visitors means more conversions, regardless of your current conversion rate. If you're not dedicating time and effort towards turning your brand into an authority in your niche, you're missing out. What you need is to divert at least a chunk of your attention towards what is called Inbound Marketing.
Inbound is exactly what the name says it is: A blend of marketing strategies designed to channel potential buyers to your business through relevant content creating, search engine marketing and a Social Media presence.
Inbound marketing is one of the most effective ways to generate targeted traffic to your website. It's the kind of traffic that actually converts because it's super relevant. By putting in more effort in Social Media promotion, you create a whole new channel to draw in laser targeted inbound traffic and get more inbound links.
For example, having an active blog makes it easy for you to connect with your audience with the help of fresh content. But by having them share this content (on the right time) on Twitter or Facebook increases your reach 10X. You're suddenly reaching out to a bigger audience that may like and share your content, follow your brand, and ultimately become a customer.
By using Social Media, you diversify your marketing efforts in more than one way. You don't reach out to just one type of crowd, but connect to a versatile customer base. Which is crucial to for your brand to make a mark in your niche.
For instance, serious professionals may find your website via LinkedIn while the younger crowd, or the millennials, may find you on Instagram. Each piece of Social Media content that you create is a new door for new customers to enter. It's a different opportunity for you to connect.
Ultimately, it boils down to creating enough high quality content that you can post on Social Media sites, and in the process attract high-converting inbound traffic.
24. Satisfy your Customers
Losing a customer is hard, and gaining a new one is harder. But retaining an existing customer is 10 times easier. Which is why customer satisfaction should be your topmost priority.
By using Social Media to connect with your customers, you have the opportunity to monitor what they want, the problems they're facing and how you could serve them. In order to truly satisfy your customers and make their life easier, you need to offer them customer service that is more personalized and effective; and Social Media helps you do just that.
Customers these days know that Social Media is a lot more approachable and friendly than a call center executive, thousands of miles away, who has a hard time resolving your problem. In other words, customers want superior service without the hassle.
Increasing customer satisfaction with Social Media includes:
• Monitoring conversations to see if your customers are talking about your brand and in what context.
• Broadcasting important messages, announcements and offers to customers via a Social Media platform such as Twitter.
• Offering prompt customer service to customers who are facing genuine problems or need some help with the product or service
• Holding regular question and answer sessions or webinars with customers to understand their concerns, get real feedback and see how things can be improved.
• Connect and build a relationship with power users or customer advocates so that they can help serve other customers.
Regardless of what Social Media platform you're using to help your customers, it's important to speak their language, give them personalized service and respond to them without much delay.
C O N C L U S I O N
It's safe to tell you that the more your business grow, the harder it is to keep all these things working updated. So don't get me wrong, sooner than later you will need people working with you. They might be remote virtual assistant or dedicated Social Media Managers or Marketing Managers.
Of course that you can do all of these things by yourself. The problem is that they take an impressive amount of TIME and simply put it's very difficult for one single person to do them all. That's the reason why you definitely need an Internet Marketing professional to work with you.
By following these steps, you can easily attract your customers and maximize your search engine presence, amplify your brand image across many channels and uphold your reputation. Social media marketing's magic blink everywhere in full swing if it is applied with successful strategies.
Maintaining a regular blog, it's a full time job. Researching, curating and writing high quality content is very hard, especially if you want to appear indexed on Google's first page. Remember, 97% of your customers don't go beyond the first page in Search Engines, so if you are not on the first page, and even, in the first 6 results, then, chances are that your competition will take on your customers.
And, by the way, from Google's first 6 results on every search, the first 3 are paid ads, so it's mandatory to have a SEO professional working with you.
You might probably be spending a lot of time doing things in your business that aren't giving you the best return on investment. Stuff like scheduling social media posts, writing email sequences, answering comments on your Instagram posts, etc.
Please don't waste your valuable time!
Trust me — it's so much easier when someone has your back. Your time is your most valuable resource. You have to concentrate in what you do best: manage your business, networking and consulting. Allow us to handle the dirty and difficult part of the process. This frees you up to do the stuff that nobody else but YOU can do.
I know that it's not always fun to ask for help, but if you're struggling to keep up with all the moving pieces of your business… You don't have to do it alone. We have created some Social Media Marketing packages specially done for you.